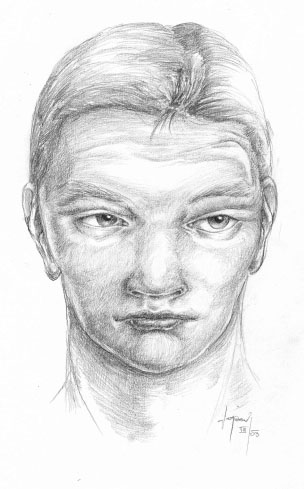 so, this is me. that guy on the left. the drawing is screwed somehow, but hopefully you don't know me personally, so you won't mind :)
i wonder what would you'd like to know about me... well, currently (2003) i am 24, live in prague, czech republic, middle europe. when talking about middles, my middle name is "jaroslav", so my full name is lojza j. filip (like homer j. simpson).
i've started drawing long ago, but it was never meant to be serious. i've never attender any art school or something. i just love comics and art. especially from guys like m. c. escher, salvador dali, oldřich kulhánek, karel demel, simon bisley, mike mignola and many others.
although i don't study art, i am currently finishing studies at an university. my profession is informatics and i quite like it.
beside my it hobbies (programming, web, project management :)) and drawing, i do a lot of other things. like collecting beetles and breeding tropical beetles, travelling, mountain walks, swimming, listening to music a lot! (my favourite bands are rage, helloween, gammaray, stratovarius, sonata arctica, virgin steele, freedom call, kamelot, stormwitch, vanishing point, queen, citron, elán, asonance, puhdys, deep purple, van halen, etc., etc..., my favourite composers are jerry goldsmith, chris hüslbeck, vangelis, hans zimmer, john williams, james horner, etc.), composing my own music on the computer (here is one of my pieces called
onwards
. in mp3 format, 2:46 min, 1867 kb), writing short stories time to time, et cetera.
well, enough about me. have a nice stay and don't forget to visit my
gallery
:)